Lisa Davis

Biographical Information
Real Name:
Lisa Davis
Occupation:
Bravo Team Intelligence Officer
Title:
DEVGRU Intelligence Officer


O-2 Lieutenant (junior grade)
O-1 Ensign (Former)
E-6 Petty Officer First Class (Former)
Logistics Specialist 1st Class
(Former)


Interests:
Reiss Julian (Ex-Boyfriend)


Sonny Quinn (Ex-Boyfriend)
Danny Cooper (Ex-Boyfriend)

Parents:
Unnamed Mother †

Unamed Father

Family:
Ronnie Davis (Sister)


Michelle Davis (Sister) †

Affiliations:
Bravo Team


Yeoman (Former) United States Navy


Physical Description
Gender:
Female
Height:
5'2 ¼
Status:
Alive
Episode Count:
25
Character Information
First appearance:
Tip of the Spear
Portrayed by:
Toni Trucks

GALLERY
Lisa Davis is a Petty Officer in the United States Navy formerly Logistics Specialist First Class. She is accepted into Officer Candidate School and received her commission upon graduation. [1] ENS Davis serves as a DEVGRU Intelligence Officer assigned primarily to Bravo Team. [2]
Early life
[
]
When Lisa was 11 her house burned down. She tried to save herself and her two little sisters from a fire because their drunk mother was not there. Lisa couldn't reach Michelle, so she grabbed her sister Ronnie and ran. Their mother blamed Lisa for Michelle's death. [1]
Season 1
[
]
In Other Lives Lisa joins the team on a mission to prove the Syrian government experimenting with a deadly nerve agent. There she helps Mandy Ellis and Eric Blackburn to exfiltrate the team and a group of survivors.
Season 2
[
]
She is accepted into Officer Candidate School and received her commission upon graduation.
Season 3
[
]
Bravo Team is in Serbia and what is supposed to be a simple stakeout turns into a dramatic car chase with three dead in connection to Vadim Tarasov but are able to bring in Viktor alive. Back at HQ everyone lightheartedly makes fun of Lisa and her new position before debriefing and heading to bed. Unbeknownst everyone, Sonny and Lisa sneak away for a quick chat. Days later they are all called away, and after multiple car rides and a boat ride, find themselves at a shipping dock. Everyone watches Trent Sawyer's back as he places the tracker on the truck. Clay Spenser shoots a beer can in distraction to help Trent make his escape. Much later, Jason Hayes makes the call to infiltrate the building in order to find Bojinka . However, after cornering him, he blows himself up. [3] Everyone returns to HQ safe, except for a few scratches on clay and Jason from the bomb. After their debriefing, Mandy and Lisa have a quick debriefing with each other. Mandy reveals she always put up walls between herself and the team, not wanting to get too close. Suggesting that Lisa does the same. Sunny checks in with Lisa to see how she's doing on her first mission. She confirms she's all right but, insists they keep a low-profile. While returning back to America, Jason celebrates Lisa's first team mission with them and her new position. [4]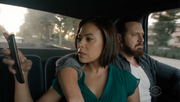 Jason is in a mood and running drills over and over again during their training session. Afterward,s they are introduced to their new commanding officer Captain Greyson Lindell. The next day they are called in for quick mission in Azerbaijan. There are to help maintain the peace only to find out the power station has been taken over by Armenian terrorists. They retake control and head home. [5]
After briefing the team on the situation in southeast China, Lisa spends the next few days trying to locate the ship's exact location. She is finally able to do so, but is still annoyed at herself for taking so long. Capt. xxx tells her she can only do the best she can. Later she along with your gunpoint for the team. Though having driven into funny multiple times that we could finally get some alone time in his truck only for Lisa to come to the decision that they should stop seeing each other. [6]
Lisa informs the team of their upcoming three-week mission to Yemen. Needing volunteers to go down two days early, Sonny asks to go, wanting to get away from the base, (notably ,her) but is turned down for Clay instead. Lisa tries to talk to him about his bruised face, but he blows her off. Bravo arrives while the city is under attack. [7] She and the rest of the home base try to find a way to navigate them out of the city. [8]
Lisa works her first mission without Bravo. She is surprised to find Jason in the command room, as he runs out the clock before his surgery. [9]
Lisa runs into Sonny at the gym, and he childishly ignores her. During a mission to Iran to receive a fallen fighter jet pilot, she hears Sonny is pinned down and injured. After he returns home, she goes to his apartment to check on him, and the two appear to reignite their relationship. [10]
While out celebrating Jason's eventual return to Bravo, Sonny takes her aside and agrees they are better off as friends. Though it appears she has changed her mind but says nothing. [11]
During military briefing for bravo team B cell was called away and soon brought before review board to discuss her drunken assault on a police officer and arrest. She declined to give any details, but later admitted to xx she had been aggressively head-on and was only defending herself, with two drinks maximum. Bravo team had ensured they arrived back to be present for her hearing. The entire team with the exception of rate testified to her character. Resulting in a positive income that banned her from drinking, but she was not arrested and allowed to keep her military position. [12]
While on the trip over to Africa, sunny apologizes for his aggressive behavior at the bar, her husband just being punished for the same thing. [17] Lisa stays at work late and Misses the team barbecue. Only to find out the next day from Sonny that he is being punished for fighting and sent to Texas for the next six weeks. [18] Bravo returns to The Middle East to Afghanistan for the start of their three-month mission. Lisa meets CIA agent Reiss Julian at target practice, and the two appear headed off. [19] Weeks later, Lisa and Mandy try to convince the local food shop they all eat at to go undercover as a spy for them, to find out who the new terrorist group is. When he declines, Mandy threatens to provoke his license on the base. He is forced to agree despite being terrified. Days later during a raid, Bravo arrests him along with everyone else. He is let out after light questioning. [20] After Mandy asks her, she looks into it, only to have to relay he had been murdered at the marketplace. [21]
Notes
[
]
DEVGRU Intelligence Officer Lisa Davis
LS1 Lisa Davis is a recipient of the Navy & Marine Corps Commendation Medal, Joint Service Achievement Medal, Navy & Marine Corps Achievement Medal, and numerous unit, service, and campaign awards. [23]
Earlier in her career, she was a Yeoman before becoming a Logistics Specialist
E-6 Rank is known as Petty Officer First Class. [24]
Admits she has applied to Officer Candidate School [25]
Appearances
[
]
Season 1

Season 2

Medicate and Isolate
My Life for Yours

Season 3
Awards and decorations
[
]
Source: [23]
Dates of promotion
[
]
References
[
]