Naima Perry is a recurring character on SEAL Team. She's the wife of Ray Perry, a member of the group of Navy SEALS the series focuses on.
She's portrayed by American actress Parisa Fakhri.
Naima is of Kurdish lineage and is an Emergency Room Registered Nurse by education, training, and experience. She was working a shift in the ER in Detroit, MI (likely Grace Hospital), when she met a young, angry, injured Ray Perry.
Season 1
Edit
Season 2
Edit
Season 3
Edit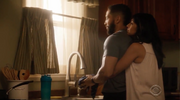 Naima calls Ray Perry while he is overseas for a quick check-in. [1] Days later they are on video chat again when Ray informs her, he is on track to make Master chief. She greets Jason Hayes in the background when he walks by. Later ones Ray has returned home they are discussing his increase of pay once he makes Master chief. [2] Naima is browsing for better houses in nicer neighborhoods for the kids. Days later once returning from another quick mission, Ray tells her he is no longer going to take up the position of Master Chief and instead will be looking to Take up Warrant Officer which pays more. [3]
Nama tries to help her husband while dealing with the delicate balancing act of explaining what her father does for a living, as she begins to question her dad's safety. [4] The next week she is doing her best to keeping the household in order, while trying to pack up before Ray leaves on his 3 month deployment. Unfortunately they are unable to move into the new house after a water main breaks. This leaves her daughter upset that they won't have any new memories in the house in case her dad dies. She promises Ray, she will take care of everything while he's gone, holding down the fort like she has always done. Two days later they see them off at the airport. Jameelah gives Ray her dolly to keep him safe. [5] He spends the next couple of weeks taking selfies of him with Miss Lucy to send back. [6]
Appearances
Edit
Season 1

Ghosts of Christmas Future
Collapse
The Spinning Wheel
Borderlines
The Exchange
Pattern of Life
The Upside Down
Call Out
No Man's Land
Never Get Out of the Boat
In Name Only
Credible Threat
Enemy of My Enemy
The Graveyard of Empires
The Cost of Doing Business

Season 2

Never Say Die
All That Matters
Say Again Your Last
Outside the Wire
Parallax
Santa Muerte
Backwards in High Heels
Time to Shine
Paradise Lost
Payback
Medicate and Isolate
Rock Bottom
My Life for Yours




Season 3

All Along the Watchtower (Part 1)
All Along the Watchtower (Part 2)
The Ones You Can't See (Mentioned)
Kill or Cure
Unbecoming an Officer (Mentioned)
Siege Protocol (Part 2) (Mentioned)
Fog of War
Objects in Mirror
Drawdown
Edge of Nowhere
In the Blind
No Choice in Duty
References
Edit
Community content is available under
CC-BY-SA
unless otherwise noted.