Jurassic World: Dominion Dominates Fandom Wikis - The Loop
Play Sound
}}
Ray Perry, is a Navy SEAL and Chief Warrant Officer 2 of Bravo Team, and is referred to as B2, or Bravo 2. Ray is Jason's most trusted friend and the longest-tenured member of the team. He was reassigned to Green Team for a while,[1] but returned to Bravo at Jason's request during his leave of absence. [2]
Personality
[
]
Ray Perry, is a Navy SEAL on Bravo Team with the rank of Chief Warrant Officer 2 . He is a Tier-One Operator, and as the Second-in-Command and is referred to as B2, or Number 2. He is the longest tenured member of the team and is married to Naima Perry.
Ray Perry is a respected member of Bravo Team and is the closest to Jason Hayes, being B2. Ray is often the voice of reason for Jason, who often gets carried away. Ray is seen to be a religious man and despite at times losing his way he always relies on his beliefs and his abilities to get him through his missions. Sonny Quinn often claims that Ray is the glue that holds the team together.
Season 1
[
]
In Tip of the Spear Ray witnesses the death of Nate Massey and later joins his friends at Massey's sons first communion until the team is dispatched to take down ISL commander Abu Samir Al Masri in Libyia. Before leaving his wife Naima Perry and him share a moment and converse about their upcoming baby. During the mission Ray and Jason are saved by new recruit Clay Spenser who shoots Al Masri before he can detonate a suicide-vest. Later Ray lectures Jason over his animosity towards Clay stemming from the young recruit reminding him too much of their deceased friend Nate.
In Other Lives Ray joins the team on a mission to prove the Syrian Goverment experimenting with a deadly nerve-gas. However, he needs to leave his highly pregnant wife behind. During the mission, Naima goes into labour, and Jason opts not to tell him as it would interfere with the operation. Afterwards, Ray says he understands why he didn't tell him and shares a moment along with his wife and newborn child.
In Boarding Party Ray joins Jason on a mission to rescue Julia Clarke and her crew from pirates who threaten to sell them off to the highest bidder. As Jason goes in Ray gives him cover from the appearing buyers.
Season 2
[
]
Season 3
[
]
Bravo Team is in Serbia and what is supposed to be a simple stakeout turns into a dramatic car chase with three dead in connection to Vadim Tarasov but are able to bring in Viktor alive. Back at HQ everyone lightheartedly makes fun of Lisa Davis and her new position before debriefing and heading to bed. While the room is empty, Eric uses this time to tell ready that he is on track to become Master Chief. Days later they are all cralled far away, and after multiple car rides and a boat ride, find themselves at a shipping dock. Everyone watches Trent Sawyer's back as he places the tracker on the truck. Clay Spenser shoots a beer can in distraction to help Trent make his escape. Much later, Jason Hayes makes the call to infiltrate the building in order to find Bojinka . However, after cornering him, he blows himself up. [3] Everyone returns to HQ safe, except for a few scratches on clay and Jason from the bomb. After their de-briefing, Sonny goes on about how he is excited to watch a UT football game. When he leaves the room Brock informs everyone the game has already taken place, and the gang decides to mess with him. Again that night Jason is irritated on unable to sleep. Plagued with what happened to former team members. Confiding to Ray that Diaz wanted to leave the team two days before he died. Sunny checks in with Lisa to see how she's doing on her first mission. She confirms she's all right but, insists they keep a low-profile. Unbeknownst to them, Ray has caught on. Later Mandy Ellis sends them out to capture Peter Malkin. once he's interrogated, they head home. Sonny's bet with everyone turns into a drinking game. And it isn't until the next night does he find out he has been duped. Bringing this up on their walk over to Vadim Tarasov. Once inside the Team goes room to room, only to find Vadim Tarasov in a final secret room. He reaches for the gun and Jason shoots him. While returning back to America Eric informs everyone that Jason has signed on for two more years as their Master Chief. He then recites his oath in front of everyone aboard. Only to go home to his empty apartment. [4]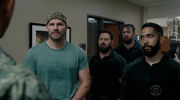 Jason is in a mood and running drills over and over again during their training session. Afterward,s they are introduced to their new commanding officer Captain Greyson Lindell. The next day they are called in for quick mission in Azerbaijan. There are to help maintain the peace only to find out the power station has been taken over by Armenian terrorists. They retake control and head home. [5]
Bravo team is looking over new candidates to add an additional member to their team. Days later after being tasked with taking over a ship holding hostages, Jason finally agrees to go with Ray's plan, leading to a successful outcome. The two both confirm they have to think of Bravo's future, and agree that Clay is the most likely candidate to be its new leader. Meaning Vic Lopez would be an ideal number two for him. Creating the same relationship Jason and Bay have with each other. Jason later introduces Vic to the team, much to Clay's annoyance over his friend losing out on the position. [6]
Bravo is gearing up for a three-week protection mission in Yemen. Ray is lead and picks Clay to come down two days early. While there they meets Ambassador Nicole Marsden, and are impressed with her dedication to her job. Soon the embassy is under fire. [7] Bravo makes it inside, and while coordinating their escape are almost taken out by a missile. He and Jason take out two rebels that snuck onto the premise. They eventually escape on a bus, with the Ambassador and Clay separating to make one final attempt at peace negotiations. It is successful but Nicole dies in an explosion. [8]
Ray assures Jason he will take good care of Bravo while he is having leg surgery. The team leaves for Paris, France to protect U.S. dignitaries during a world Summit. He is station with Vic and mentors him throughout the mission. [9] Weeks later, he and his wife continued to fret over money. despite being a little happy he has received a temporary pay bum as acting team leader of Bravo. Jason interrupts his date night, and eventually the entire team goes to Iran to retrieve fallen fighter jet pilot. Ray continues as team leader. [10]
Ray is in charge on his last mission before Jason's return. The team is sent on a rather public mission to protect a doctor while he collects Ebola samples. The next day they are sent to track down a pure form of the disease that has been stolen. [11]
Ray learns that he has been selected for promotion to Master Chief,[5] but after some consideration (including for financial reasons as well as to remain with Bravo Team), Ray decides to put in for a Warrant Officer commission.
While at the bar Mandy realize Jason was dating someone, much to Ray's surprise. Later before getting ready to Stan before commission trial he was visited by Glen Mack. he told him not to risk his new pending position of Warrant Officer. reluctantly Ray decided to stand down and did not appear before the review board for Lisa. He later apologized to her after finding out she had won her case. [12]
Ray tentatively explains to his daughter about his job after he comments on the news and she realizes he was there. [17] Jameelah is becoming increasingly worried for his safety, and after finding out they can't spend any time together in the new house, worries he'll die & they won't have any memories of him in the new house. Before leaving, she gives him her doll Miss Tina to keep him safe. [18]
Bravo returns to The Middle East to Afghanistan for the start of their three-month mission. Michael Chen, a former Bravo member, is brought in from Charlie to replace Sonny while he's in Texas. It is clear Mike has history with Jason and Ray, both of whom attempt to fight him. Ray continues to take photos of Miss Lucy, and video chat his daughter daily. The first three weeks are silent, much to everyone's annoyance. While in the rec room, Mike stirs up trouble, revealing Clay has accepted STA-21, causing a fight between Clay and Jason. Jason removes the younger member from the team in anger. After they set out on a mission with their new tentative allies, the Taliban. After a brief standoff, it's discovered Jack's team was ambushed and all their hands were cut off. [19] Bravo is sent in to break up a group of gathering extremists. The CIA interrogated all of some, however none have any useful information so are that go. Only for it to be discovered after the fact, one of them was the head of the new gathering group of terrorists. [20] Bravo tracks down a gun for hire that has been jailed. Aware the officers are wasting their time and something is about to happen, they are only partially caught off guard when a suicide bomber blows up the police building. The enemy destroys their communication signal, Clay is pinned down under heavy gunfire, while the rest of Bravo searches for a solution. Ray is able to locate and take out the two snipers, but is shot in the arm for his effort and reinforcements arrive for the rest of them. [21]
Season 4
[
]
After Bravo Team completed its deployment to Afghanistan, Ray learned that he was invited to Chief Warrant Officer School in Rhode Island; after the two-month course, he returned to Virginia Beach with his new rank. On his second day back, Ray is requested to join CIA Correspondant Olivia Green in
Season 5
[
]
Notes
[
]
(current)Warrant officer Ray Perry
(former)Senior Chief Special Warfare Operator E-8 Ray Perry
Senior Chief Perry is a recipient of the Silver Star and Bronze Star with a Combat "V" [23]
Re-assigned to teaching Green Team. [29]
Allowed temporarily on Bravo Team, as B6 [30]
Officially returned to Bravo Team as B2 [31]
Ray was seriously hurt in when a bomb went off in a bar, while off-duty. [32]
Went missing while over enemy lines in Lahore, Pakistan after his parachute failed to open. [32] [33] [23]
On track to make Master Chief later this year, making him an E-9. [4]
Instead of becoming Master Chief Ray is going for the position of Warrant Officer [5]
Ray confesses to Jason he's trying out for Warrant Officer. [6]
Master Chief Hayes & Senior Chief Perry speculate that in 10 years, Clay Spenser will be leading Bravo. [6]
Ray and Clay Spenser are confirmed to go back and forth as lead snipers. However, Clay is often picked over Ray as he has better aim, while Ray has more experience. [7]
Likes to use HK 416 or MP7, but also uses assorted long rifles like the SR25, Desert Tech SRS, and the Knights Armament M110
Nominated Second Class Spenser for a Bronze Star with a Valor for his actions in Yemen during combat.
[7] [8] [10]
Naima Perry referred his origin as a black Italian-Irish Jewish .
Appearances
[
]
| | | |
| --- | --- | --- |
| Season 1 | Season 2 | Season 3 |
References
[
]